ORANGERIES IN PETERBOROUGH, CAMBRIDGESHIRE
Your One Stop Solution For Orangeries
Wouldn't you rather make one phone call to get a response to your questions? You can when you choose orangeries from the  I Want Windows and Doors product range. We're not just an installation company in Peterborough - we handle all aspects of the building process, including laying the foundations, completing any additional building required and even landscaping.
We cover Peterborough, Cambridge, Corby, Kettering, Oakham, Huntingdon, Wisbech & Spalding and the surrounding areas. I Want Windows and Doors has local experience you can depend on.
A Wide Range Of Market-Leading Products
Orangeries come in a broad range of different configurations and styles. Choosing one that will suit the size, age and layout of your home in Peterborough might appear daunting at first - but we have the knowledge and experience to make your project the success it deserves to be. Our orangery products are sourced from the best suppliers and manufacturers for your peace of mind.
From solid orangery roofs and warm roof systems, we'll be able to introduce you to a choice or carefully chosen products. Stylish, but without compromising on performance, every entry in our orangery range will meet your design requirements and add market appeal to your home.
Explore our orangeries range today by calling or emailing the I Want Windows and Doors team today. You can also build your orangery online using our dedicated design tool. Enter some basic details - such as the size you need your preferred colour - to generate a guideline quote in minutes.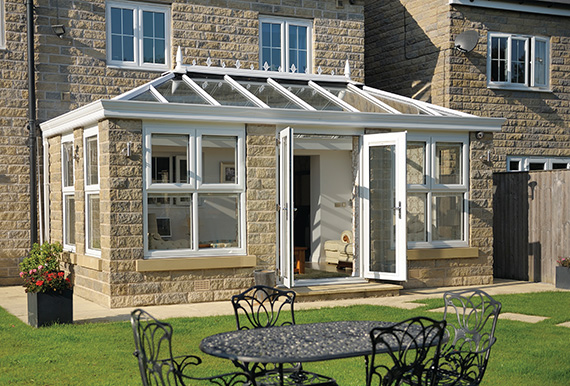 Solid Roofs
Orangeries often feature solid roofs. The thermally efficient design of a solid roof system locks the heat in where it's needed and converts the structure into a private space that can be enjoyed without worrying about being overlooked.
The solid roofs we install with our orangeries are manufactured by Guardian - a leader in their field. These systems can also be used as replacements, which means you can save time and money if your frames and foundations are still sound.
Warm Roofs
The term 'warm roof' is often used interchangeably with 'solid roof.' The tiled warm roof systems that we use for our orangeries will make your home in Peterborough warmer - and much quieter too, thanks to clever sound blocking technology.
A warm roof is the ideal partner for any of the orangeries that we install. It will turn your space into a room that's ideal for year-round living, which means you could use your new space as a living area, lounge or even a playroom for children to use.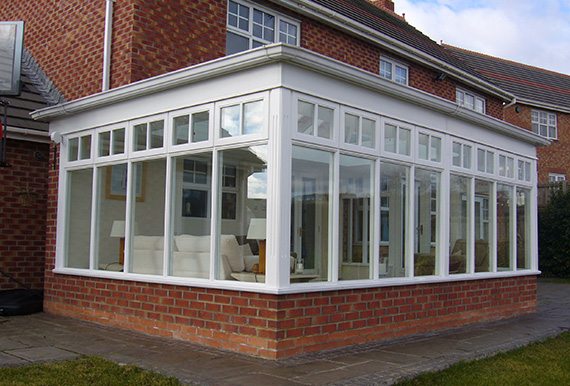 Roof Lanterns
Also referred to as roof lights or ceiling lights, roof lanterns feature prominently in the design of most orangeries. An orangery features more brick than glass, resulting in an interior space that is closed in and which feels like a natural extension of the home.
Light is let in via the roof lantern, which is composed almost entirely of glass and which features fewer bars to maximise light penetration into the area below. Roof lanterns look elegant and improve the external appearance of orangeries at the same time.
Flat Roof Systems
Orangeries can feature a flat roof, in which case customers have the option of installing a roof light or roof lantern, the benefits of which we discussed earlier. Depending on your requirements, you may want to exclude a ceiling light from your orangery design.
Letting at least some light into your room is important. Orangeries that use a flat roof without any additional lighting from above might benefit from full-height glazing or sliding patio doors that feature more glass and less frame. Contact us for advice today.
Glass Roof Systems
A glass roof is often preferred by customers interested in orangeries for their home. Although used more commonly with conservatories, a glass roof can be used to modernise an orangery and open it out the elements - at the same time letting in light.
If you're less concerned about privation - and like the look of modern orangeries - then a glass roof system will suit the requirements of your project perfectly. Contact the I Want Windows team to discuss your ideas, make an appointment or get a quote.
Orangery Styles
When exploring orangeries, you'll notice that they come in a range of different building configurations. Choosing the right one might appear difficult, as each option will come with its own unique set of benefits and restrictions. You can design yours online in minutes.
Lean-to orangeries are ideal for one-storey dwellings or smaller properties in Peterborough. If you have lots of space to the rear of your property, a P-shaped design - which comprises a longer section attached to a smaller room area - might be the better choice.
---
Orangeries Prices, Peterborough and Surrounding Areas
Explore our stylish range of orangeries to locate a modern or traditional design solution that will add market appeal to your home by contacting us. You can also get a free quote in just a couple of minutes using our online orangery design tool.
Start Your Quote